Community meetings
See upcoming community meetings. We come to you to explain who we are, what we do, and what your utility has asked us to approve.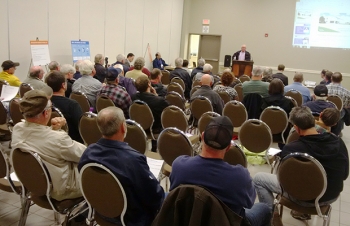 We host local community meetings so that you have a chance to share your thoughts and ask questions about things your local utility has asked the Ontario Energy Board to approve, such as an increase in the rates they charge for the delivery of electricity or natural gas.
You can learn why your utility is asking for changes and how it justifies them. This is your opportunity to ask hard questions about your utility's costs. You can give us your input directly, which we will take into consideration as part of our decision-making process.
Upcoming community meetings
Past community meetings
Lakeland Power Distribution Ltd. (EB-2018-0050) - Nov 28, 2018
Toronto Hydro-Electric System Limited (EB-2018-0165) - Nov 22, Nov 26, Dec 4, Dec 5, Dec 6
Niagara-on-the-Lake Hydro Inc. (EB-2018-0056) - Oct 9, 2018
Energy + Inc. (EB-2018-0028) - Jul 11, 2018
PUC Distribution (EB-2017-0071) - Jun 19, 2018
Westario Power (EB-2017-0084) - Jan 24, 2018
Essex Powerlines Corporation (EB-2017-0039) - Jan 18, 2018
Erie Thames Powerlines (EB-2017-0038) - Dec 12, 2017
Hydro One Remote Communities (EB-2017-0051) - Nov 29, 2017
Sioux Lookout Hydro (EB-2017-0073) - Nov 7, 2017
Centre Wellington Hydro Inc. (EB-2017-0032) - Sep 21, 2017
Cooperative Hydro Embrun Inc. (EB-2017-0035) - Sep 19, 2017
Hydro Hawkesbury Inc. (EB-2017-0048) - Sep 18, 2017
Hydro One Networks Inc. (EB-2017-0049)
InnPower Corporation - Mar 9, 2017
E.L.K. Energy Inc. - Mar 2, 2017
Welland Hydro-Electric System Corp. - Jan 31, 2017
Rideau St. Lawrence Distribution Inc. - Jan 16, 2017
Atikokan Hydro Inc. - Jan 9, 2017
Thunder Bay Hydro Electricity Distribution Inc. - Nov 23, 2016
London Hydro Inc. - Nov 15, 2016
Northern Ontario Wires Inc. (Cochrane) - Nov 2, 2016
Northern Ontario Wires Inc. (Kapuskasing) - Nov 2, 2016
Natural Resource Gas Limited - Oct 13, 2016
Renfrew Hydro Inc. - Oct 6, 2016
Canadian Niagara Power Inc. operating as Eastern Ontario Power - Sep 14, 2016
Canadian Niagara Power Inc. - Sep 13, 2016
Brantford Power Inc. - Jul 14, 2016
What happens at community meetings?
 You can:
Speak with utility representatives directly and ask why they want the change they're proposing
Ask us questions about our process and find out how to get involved
Give us your comments about an application, which we give to the decision-makers to consider as part of the hearings process
If you come to a community meeting, you will be able to provide us your comments verbally or in writing. You can also give a presentation. We keep notes about all verbal questions and comments at the meeting. We also file a report so the decision-makers at the Ontario Energy Board are aware of all the concerns that utility customers raise about an application – the very people who may be affected by the changes their utility is requesting. 
View and comment on rate applications
Unable to attend a community meeting? Visit the current rate applications page to:
Find out when upcoming community meetings and hearings are being held.
Provide your comments online and look at other people's comments.
See related documents, regularly updated.
If you are unable to attend a meeting you can also email us or send a letter.
When are meetings held?
We hold community meetings in your area when your utility files a major application for a rate increase. Before we make a final decision about their application, we ask members of the community to tell us what they think.  
We also let you know we're coming to your area by publishing information in local newspapers, and through special announcements on this website and utility websites.
Make a presentation
If you'd like to make a brief presentation at a community meeting, please complete this form and email it to Registrar@oeb.ca or call 1-877-632-2727 (toll-free). Let us know in advance that you're coming, or simply show up, and we'll be sure you have the opportunity to express your views.
More than one way to have your say
You have the right to comment when your utility asks for a rate change. Community meetings are one way to be heard. You can also: