We visit communities across Ontario to reach as many energy consumers as possible - from new bill payers and new Canadians, to seniors and lower-income consumers, to business organizations and local governments. It's an important part of our commitment to provide information and to engage, empower and protect Ontario's consumers.
At activity centres, fairs, small business organizations and tradeshows we share information about consumer rights, available support, how to get involved and how we are working to protect your interests. We also answer your questions and listen to your concerns.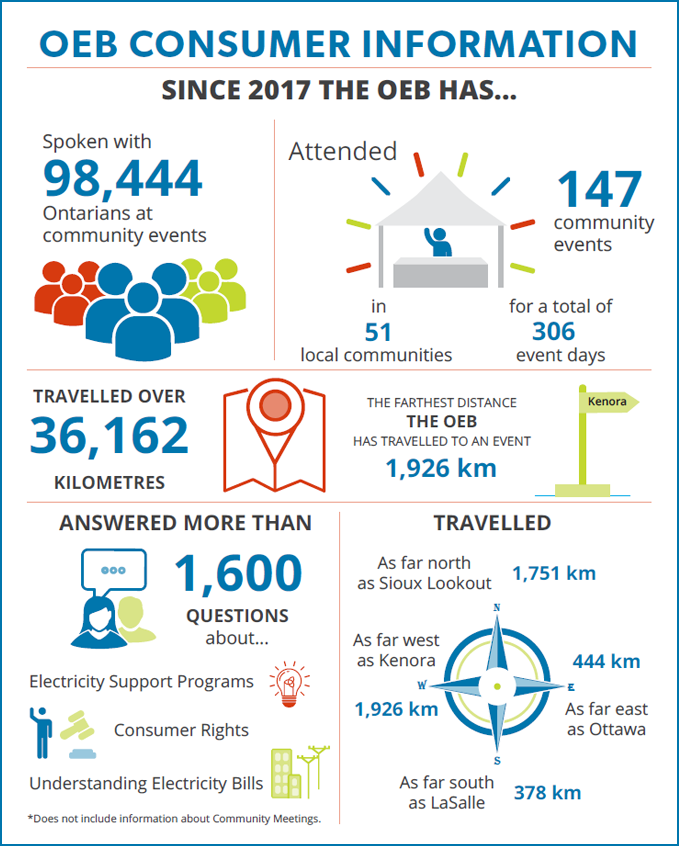 Want the OEB to attend your event? 
If your community group or other organization would like us to attend your event and/or make a presentation, let us know.
Like all provincial agencies, the OEB is prohibited by the Financial Administration Act from paying to attend or sponsoring an event at which a Canadian politician is scheduled to speak. This rule, which came into effect in July 2019, does not apply to events with additional speakers who are not politicians. Individuals can still attend events as long as their tickets are purchased with their own funds, they are invited as a guest or the event is free, subject always to applicable conflict of interest rules.
See where we'll be next
Date(s)
Event Details / Location
Nov 21, 2019

Windsor Senior Fair

Location: 8787 McHugh Street, Windsor

Time: 10:00 a.m. - 2:00 p.m.

 

More information: oacao.org/events/seniors-information-fairs

Nov 27-28, 2019

Nonprofit Driven

Location: Metro Toronto Convention Centre, Toronto

 

More information: nonprofitdriven.ca

Dec 3, 2019

International Day of Persons with Disabilities

Location: 8800 The Gore Rd, Brampton

Time: 9:00 a.m. - 4:00 p.m.