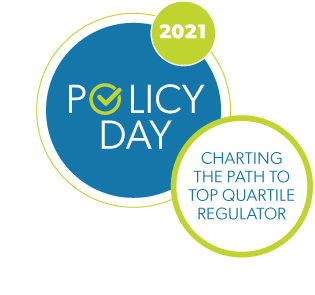 The OEB is on a path to modernization, guided by a deep desire for change. We have set a goal of being recognized as a top quartile regulator and are working to improve certainty, transparency and accountability to the sector while driving value for Ontarians.
Held on September 29, 2021, Policy Day, our virtual, interactive event, was an opportunity for industry stakeholders to hear early thinking about and provide input into our forward work plan for the 2022 – 2025 period. It was also an opportunity for participants to engage in a forward-looking discussion on longer-term sector evolution and how to anticipate and respond to change.
Program of Events
The program for Policy Day: Charting the Path to Top Quartile Regulator included:
Keynote address from a leading expert on global policy and sustainability, Amy Myers Jaffe, Managing Director of the Climate Policy Lab & Research Professor at The Fletcher School at Tufts University.
Remarks from OEB's executive leadership team: CEO Susanna Zagar, Chief Commissioner Lynne Anderson, Chief Corporate Services Officer & General Counsel Carolyn Calwell and Chief Operating Officer Harneet Panesar.
Post-Meeting Materials
Report
Presentations
Videos