The new option, offered in addition to the Time-of-Use (TOU) and Tiered price plans, features four price periods designed to encourage consumers to shift their electricity usage to lower-demand periods to better manage their electricity costs. For example, customers with an electric vehicle can choose to charge their vehicle during the Ultra-Low Overnight period to capitalize on the time of day when electricity prices are lowest.
With more pricing options offered to customers, the Ontario Energy Board (OEB) is committed to creating new ways to help consumers and businesses make informed decisions. Accordingly, the OEB has updated the graphics that consumers use to understand the various price periods. These graphics illustrate the ULO, TOU and Tiered price plans.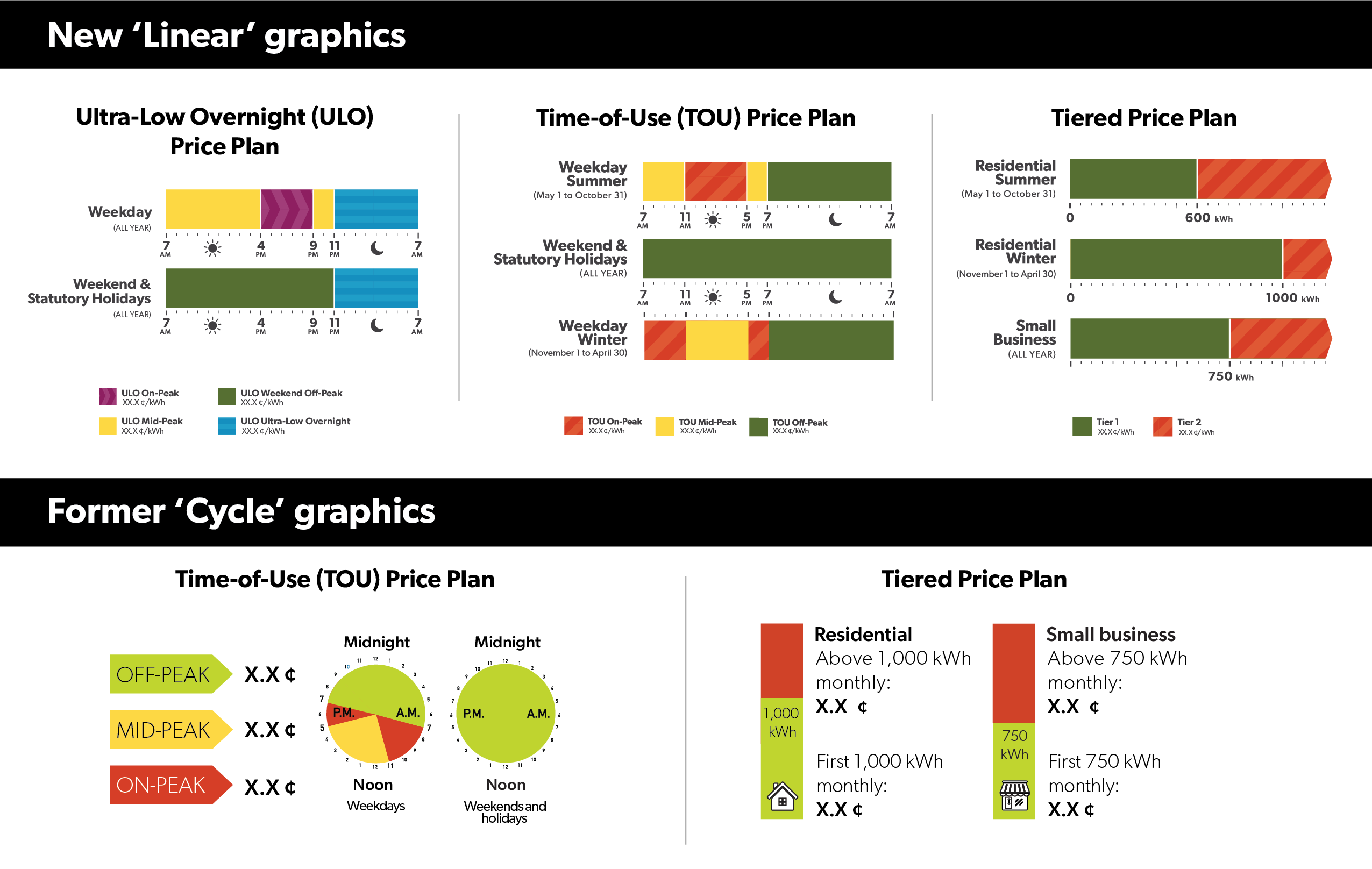 To ensure that Ontarians understand the updated graphics, the OEB conducted online research among a representative sample of nearly 500 Ontario adults responsible for paying their household's electricity bill. Respondents were shown two graphic options in random order and asked a series of questions to determine which was more effective in helping customers to make informed decisions about their electricity use.
When comparing usability of cycle graphics with the new linear version, respondents were asked to indicate their design preference and identify the price periods for various days of the week and times of the day. The data shows:
55% of respondents preferred the linear design vs. 35% for the cycles
73% of respondents could correctly identify different price periods using the linear graphics vs. 64% using the cycles
32% of 18–24-year-olds, the more digitally inclined customers of the future, were more likely to answer incorrectly when using the cycles to identify the different price periods. There were no other significant differences based on demographics.
Roughly 95% of customers are aware that electricity prices vary depending on the time of use, however, about 55% of customers were unaware that they could choose a tiered price plan.
In addition to these new graphics, the OEB is updating additional tools, including:
An online bill calculator that incorporates the ULO price plan
A dedicated customer choice webpage (oeb.ca/choice) with more information, including videos to explain the price plans
The OEB will make these tools available to Ontario electricity distributors to support their customers in making informed price plan choices.
Through measures like these, the OEB is advancing its vision to be a trusted regulator who is recognized for enabling Ontario's growing economy and improving the quality of life for the people of this province who deserve safe, reliable and affordable energy.