Get involved! Have your say about utility applications, energy policies and more.
We welcome consumers' participation in our processes. Hearing directly from you helps us to better understand your perspective and to make decisions that are in the public interest. There are a number of ways you can have your say about energy initiatives that affect you. You can: 
Get involved in your utility's application:  
Comment on policy initiatives
Join our Consumer Panel and weigh in on programs and tools we're developing for consumers
When you talk, we listen. So get involved.
Community meetings
Our community meetings are your chance to ask questions about your local utility's proposal. Hear from us about our review process. Speak with utility representatives, make a presentation and give us your opinion. We'll factor your comments into our decisions.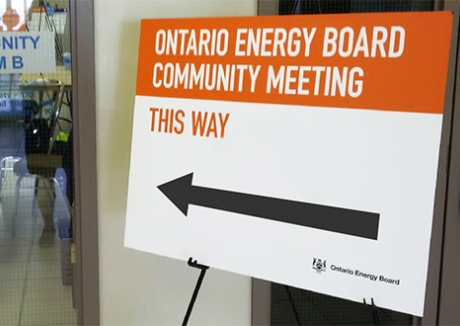 Applications
Did you know that utilities have to file detailed applications with us before they can change their rates or build new infrastructure? See these applications online and be part of our decision-making process.
Hearings
We hold court-like proceedings – called hearings – to review most rate applications. It's where we take into account your input, the views of community groups and information from our in-house experts. You can even listen in.
Intervenors
When we're considering a utility's application, we like to hear from as many interested parties as possible before making our decision. If you are affected by the application and you want to actively take part in the hearing process, you can apply to become an intervenor.
Decisions
When utilities ask us to consider a change that may affect your bill, we don't just rubber-stamp their proposal. We undertake an extensive review process before any decisions are made. You're invited to be part of the process.
Consumer panel
People from around the province are helping to shape energy policies, programs and services by taking part in our Consumer Panel. Find out how you can join our in-person or online panels, as residential or small business consumer.
Energy policy - consulting with consumers
We develop policy that contributes to a sustainable and reliable energy sector and protects consumers. You can have your say about energy policy initiatives that affect you. Find out what policies we're working on.
OEB in your community
See the upcoming community events we're attending. Come out and ask questions, or have us speak at your group's next event.